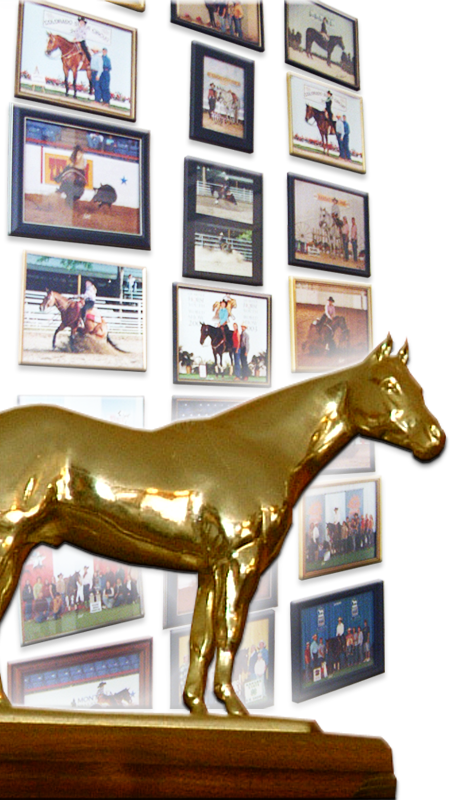 W-H Training Stables
Services

The Hensons are involved in many aspects of the horse industry; lessons, horse training, sales and judging services for several years.
---
Accomplishments by the Hensons & their students:
2012
Jennifer Sadler and Little Bell Pepper - Reserve World Champion AQHA Ranch Horse
John Keller and "Bucket" - 3rd NRCHA World Non-Pro Hackamore
Gretchen Keller and "Gus" - 6th NRCHA Non-Pro Limitted 5K &
7th NRCHA Non-Pro Limited Bridle
Sara Guglemeyer and "Chic" - Denver Stock Show Amateaur AQHA Versatiltiy Champion
2011
NVRHA Finals- Stephany Siitari - Novice Champion
NVRHA Finals - Charlie Stewart - Intermediate Champion
NVRHA Finals- Shane Bangerter - Advanced Champion
NVRHA Legand Awards - Bill Cantrell - Whiskey's Stick Chick
Henry Block & Jennifer Sadler - Little Bell Pepper
NVRHA Year End
- Reserve Hi-Point Novice
- Stephany Siitari
- Hi-Point Intermediate - Charlie Stewart
- Hi-Point Advanced
- Rita Lauby
- Reserve Hi-Point Advanced - Shane Bangerter

CRCHA
- John Keller & "Bucket" - multiple Derby winner
- Jeremy Guglemeyer & "Cash" - multiple Derby winner
2010
NVRHA 2nd Legend Award - Dave Currin & Docs Second Best
2009
- AQHA Hi-Point Amateaur Working Cowhorse
- AQHA top ten - AJQHA Cutting
- NVRHA Advanced Amateaur Champion
- NVRHA 1st Legend
- NVRHA Horseman of the Year
---
Riding Lessons:
The Hensons offer lessons for the beginner rider, intermediate, and even for the more advanced rider that would like to sharpen thier skills.
---
Horse Training:
If your horse needs a tune-up, to learn a new discipline, be competitive in versatility, or you have a futurity or young prospect.

---
Clinics:
Jay and Gena are well versed clinicians that travel across the nation. Their main focus is the National Versatility Ranch Horse Association which encompasses basic riding, trail, cutting and cow horse events.
---
Sales:
Looking for the perfect horse? Contact the Hensons and let them know what you're looking for.